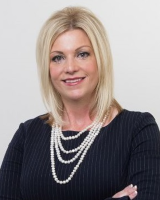 Vickie B. Ahlers
Firm: Baird Holm LLP
Location: Omaha - NE
1700 Farnam Street Suite 1500




Omaha, NE 68102-2068




USA
Tel : 402.636.8230

Fax : 402.344.0588

Email : vahlers@bairdholm.com

Vickie B. Ahlers represents health care clients with respect to a variety of issues including regulatory, transactional and contracting issues, HIPAA, medical staff and allied health professionals issues, organizational compliance, and compliance with FDA medical device regulations. Vickie also focuses her practice on privacy and data protection issues for businesses across all industry sectors. She has handled more than 300 breach analyses and response efforts, ranging from preparation and evaluation of privacy & data protection processes, incident evaluation & response, and regulatory enforcement defense.
Prior to joining the firm, Vickie served as a clerk for the Honorable James L. Foreman, District Judge for the United States District Court for the Southern District of Illinois. In 1997, she also served as a clerk for the United States Attorney's Office.
Vickie is the Chair of the Firm's Health Care section and leads the firm's Privacy & Data Protection group. She has spoken to numerous industry groups such as the American Hospital Association and the Health Care Compliance Association on the topic of privacy and security for healthcare providers, insurers and employers. She has been listed in Chambers USA, America's Leading Lawyers for Business (© 2013). Since 2007, Vickie has been selected by her peers for inclusion in The Best Lawyers in America® in the field of Health Care Law, and was named Best Lawyers' Omaha Healthcare Lawyer of the Year for 2013.
---
Baird Holm LLP
Baird Holm LLP's integrated team of 90 attorneys, licensed in 23 states, is committed to connecting each of its valued clients to the positive outcomes they seek. With extensive and diverse expertise, we leverage each other's skills to respond efficiently to our clients' local, regional, national and international legal needs. We are proud to represent public and private companies, individuals, private funds and other investors, financial institutions, governmental entities and nonprofit organizations.
Rooted by the promise to constantly evolve in anticipation of our clients' rapidly changing needs, Baird Holm has enjoyed steady and measured growth since its founding in 1873. Today, we look to the future as we carry on the legacy created by our visionary founders.
When Milton Montgomery and his son, Carroll (C.S.) Montgomery opened their law practice on November 1, 1873, Nebraska was just six years old. The first rail line connecting the east to the west had been laid across the Missouri River the year before, quickly turning Omaha into an epicenter of agriculture, transportation, finance and international commerce. As the city grew, our firm grew too, and by 1970, the present incarnation of Baird Holm was born.
We are proud to look back on the vision of our founding partners who pioneered a new legal landscape as Omaha grew and new technology emerged; our noteworthy tenure has witnessed 28 U.S. Presidents, two Great Wars, a Great Depression, and a succession of political movements and cultural revolutions that called on innovative leadership and forethought to endure.
Backed by more than 140 years of visionary leadership, we are proud to have deep roots in the region's history and excited to embrace the future.