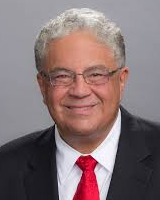 Vasilios J. Kalogredis
Firm: Lamb McErlane
Location: West Chester - PA
24 E. Market Street




West Chester, PA 19381




USA
Tel : 610.701.4402

Fax : 610.692.6210

Email : bkalogredis@lambmcerlane.com

Vasilios ("Bill") J. Kalogredis is Chairman of Lamb McErlane's Health Law Department. He was formally shareholder of a law firm in Wayne, PA that he founded in 1981. Bill has been exclusively practicing health law for over 40 years, representing physicians, dentists, group practices, other health care professionals and health care-related entities.
Bill has significant experience representing many medical and dental groups and thousands of individual physicians and dentists. He drafts, reviews and negotiates co-ownership documents (such as: shareholder agreements, operating agreements and partnership agreements), employment contracts, non-competition clauses and separation agreements. He also analyzes and negotiates physician arrangements with hospitals and other organizations (including exclusive contracts, medical directorships, employment agreements, management arrangements, ACO arrangements, bundled payment arrangements and joint ventures).
In addition, Bill assists health care providers with practice sales, service line co-management arrangements, mergers and joint ventures. He also negotiates buy-ins and buy-outs of "Partnership interests" in medical and dental practices, as well as other healthcare entities. Bill advises clients on the tax and practical implications of proposed transactions as well. Bill also advises doctors and their practices relative to personnel, financing and office and equipment leases.
Bill has also served as a sounding board for those trying to decide what their best next professional career steps might be in light of all of the changes and complexities in the health care world today. This can range from residents and fellows coming out of training to doctors nearing retirement. Bill assists by analyzing the potential risks and rewards of business arrangements being contemplated from pragmatic, personal, economic, tax and legal perspectives.
Bill frequently lectures both locally and nationally on health law topics, and he has published many articles on current issues in health law. He is a regular, monthly contributor to the Legal Intelligencer.
He has been recognized for his legal abilities as a Pennsylvania Super Lawyer, a Top Attorney in Pennsylvania and AV Peer Review Rated by Martindale-Hubbell.
---
Lamb McErlane
Lamb McErlane delivers the breadth of services you expect from a downtown firm with the personal attention typically associated with a neighborhood law office.
One of the most sophisticated, diverse and respected boutique practices in the suburban Delaware Valley, Lamb McErlane has delivered competent, dedicated and results-oriented legal services since its founding.
Experienced, innovative, knowledgeable – Lamb McErlane's attorneys frequently speak at Bar Association seminars, teaching peers the nuances of a particular area of the substantive or procedural law. Our attorneys are active members of the community, serving on numerous business, political and charitable boards. We are at home in the business and political spheres, serving on state and federal commissions and on chambers of commerce.
Our attorneys are regular columnists whose writings educate other attorneys and members of the public and enable officials to take a proactive role in improving public service. A high percentage of our attorneys repeatedly have been designated Pennsylvania Super Lawyers, are AV Rated by Martindale Hubble and have been named Best Lawyers*.
When diverse experience, intelligence and hard work come together, the result is an effective, powerful team. The firm's lawyers practice in a variety of legal areas, making Lamb McErlane a full-service law firm with sought-after expertise and sophistication. Our goal is to deliver results with old-fashioned personal service. Whether the client is an individual, a small business, or a multi-national corporation, the team at Lamb McErlane understands that each client and each case presents an opportunity to build a long-term relationship. We look forward to delivering a rewarding legal experience for you.