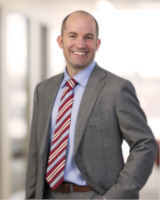 Timothy C. Gutwald
Firm: Miller, Johnson
Location: Grand Rapids - MI
45 Ottawa Ave, SW Suite 1100




Grand Rapids, MI 49503




USA
Tel : 616.831.1727

Fax : 616.988.1727

Email : gutwaldt@millerjohnson.com

Tim Gutwald is a member of Miller Johnson and chairs the firm's Health Care Providers practice group. He counsels health care clients including hospitals, long term care providers, labs, pharmacies, mental health care providers and large and small multi-specialty physician groups. Mr. Gutwald represents health care clients in a wide variety of matters in state and federal courts and in administrative hearings.
His work involves day-to-day counsel and representation of health care providers regarding such issues as HIPAA, data breaches, telemedicine, medical staff and peer review matters, licensing issues, risk management and regulatory compliance including Stark and Anti-Kickback analysis.
Mr. Gutwald is a member of the firm's Health Care Providers practice group. He has spent his entire career representing health care providers and has developed significant knowledge and experience in health care law, a wide body of federal and state law and regulations extending to all aspects of medical related services. He represents hospitals, physician groups and other medical service providers in matters pertaining to medical staff matters, regulatory compliance and contractual arrangements. The clients that he represents include some of the largest health systems and physician practices in Michigan.
Mr. Gutwald is a member of the firm's Health Care Reform Team. Because of the complexity and ambiguity of Patient Protection and Affordable Care Act (commonly referred to as ACA) and the Health Care and Education Affordability Reconciliation Act of 2010, the two acts that make-up the health care reform legislation, he is committed to informing clients of new regulations as they are released in order to ensure compliance.
Mr. Gutwald counsels and represents hospitals and physician groups in recovering payment for medical services from insurance companies, ERISA health benefit plans, and other payers. Mr. Gutwald is a member of Miller Johnson's Health Care Provider Reimbursement Practice Group. His expertise is in obtaining insurance reimbursement for patient accounts.
He has successfully litigated numerous cases against insurance companies on issues such as intentional-act exclusions, priority disputes, medical necessity, and the reasonableness of medical charges. In addition to recovering unpaid and overdue medical charges on behalf of his health care provider clients, Mr. Gutwald has recovered penalties, including attorney fees and interest, many times. The penalties that he's collected have often exceeded the amount of the underlying claim.
---
Miller, Johnson
Commitment to Client Service is our daily mission. From our offices in Grand Rapids and Kalamazoo, Michigan, we represent corporate, institutional, and individual clients around the world.
We provide counsel to employers for their most sophisticated legal needs and work to improve quality of life in the communities we serve. Together, we are part of an increasingly diverse, multicultural, and global marketplace—a world full of change, challenges and possibilities.
The Health care practice group focuses on representing and counseling physicians, nurses, pharmacists, psychologists, social workers, counselors, foster homes, mental health care facilities, hospitals, nursing homes and other health care providers, including their unlicensed staff, facing a complaint, suspension or investigation by the State of Michigan or accrediting entity. We use our experience as litigators and knowledge of the health care system to effectively counsel, defend and advocate on behalf of licensed professionals and business entities. Our attorneys know the impact that probation, suspension and revocation have on the livelihood of individuals and businesses, and we work to ensure that our clients are able to continue in their chosen profession. We work with each client to navigate the administrative process, develop a defense, create corrective action plans and minimize the potential negative impact on the client's business or professional career. We work with licensed professionals and businesses