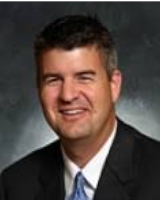 Ted J. McDonald
Firm: McDonald Veon, P.A.
Location: Overland Park - KS
9300 W. 110th Street Suite 470




Overland Park, KS 66210




USA
Tel : 913-647-0672

Fax : 913-647-0671

Email : ted@mcdonaldveon.com

Ted J. McDonald practices in a variety of areas of civil litigation with a primary emphasis on defending and consulting long term care and assisted living facilities. Ted serves as counsel for some of the largest providers of long term care services in the country. Mr. McDonald's background includes experience in products liability, medical malpractice and personal injury litigation.
Mr. McDonald earned his undergraduate degree in business from the University of Kansas. He received his Juris Doctorate from the University of Missouri at Kansas City.
Mr. McDonald is a member of both the Missouri and Kansas Bars and is admitted to practice in the United States District Courts in Missouri and Kansas.
Ted is a member of the International Association of Defense Counsel (IADC) and holds numerous positions of leadership with the Defense Research Institute (current member, DRI Law Institute; past Chair, DRI Medical Liability and Healthcare Law Committee; past Chair, DRI Nursing Home-ALF Subcommittee; past member, DRI Governance Committee; past Chair, DRI Young Lawyers' Committee; past Faculty, DRI Nursing Home and Medical Liability Seminars). Mr. McDonald has been published in DRI and IADC publications.
Ted is a member of the Kansas City Metropolitan Bar Association (past, Chair Public Service Committee), Johnson County Bar Association, and the Kansas Defense Lawyers Association.
Mr. McDonald in is active in his community, currently serving as the Kansas State Coordinator (working together with Kansas Supreme Court Chief Justice Lawton Nuss) for iCivics, a national program founded by Justice Sandra Day O'Connor designed to educate school children about three branches of government and civic duty.  Mr. McDonald is the past Chairman of the Board of Folds of Honor (Kansas City Chapter), a national philanthropic organization founded by Major Dan Rooney, a U.S. Air Force Pilot and former PGA golfer,  which awards educational scholarships to the families of injured/fallen service men and women.
Professional Associations and Memberships
Kansas City Metropolitan, Past Chair, Public Service Committee
Johnson County Bar Association
Kansas Bar Association
The Missouri Bar
Kansas Association of Defense Counsel
International Association of Defense Counsel, Medical Liability Committee; iCivics State Coordinator, Kansas
Defense Research Institute/DRI™, Current Member, DRI Law Institute; Past Chair, Medical Liability Committee; Past Chair, Long Term Care Subcommittee; Past-Program Chair; Nursing Home/ALF Litigation Seminar; Past Member, Governing Committee; Past Chair, Young Lawyers Committee
Founding Board Member and Past Chairman of the Board, Folds of Honor, Kansas City Chapter
---
McDonald Veon, P.A.
The lawyers at McDonald Veon, P.A., provide a broad range of legal services to long-term care facilities, insurance companies and other health care professionals. From our office in Overland Park in the Kansas City metropolitan area, we represent clients in Kansas, Missouri and throughout the United States.
We are often called upon to defend nursing homes and long-term care facilities in litigation. Our attorneys have a longstanding history of success in resolving cases through settlement negotiations, mediation, arbitration and trial. If trial is necessary, Ted McDonald is one of the few area litigators who have obtained defense verdicts in favor of long-term care providers.
We also provide regulatory compliance and risk management consulting services to minimize litigation. Our lawyers will help your facility apply the lessons learned from our years of litigating long-term care claims to proactively manage risk and limit liability exposure.