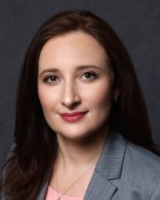 Svetlana (Lana) Ros
Firm: Pashman Stein Walder Hayden P.C.
Location: Hackensack - NJ
Court Plaza South, East Wing




21 Main Street, Suite 200




Hackensack, NJ 07601
Tel : 201.373.2060

Fax : 201.488.5556

Email : LRos@pashmanstein.com

Lana Ros is the chair of the Firm's Health Care Practice. She works with physicians, dentists, nurses, and other health care professionals, as well as health care businesses, to help them navigate the complex and constantly evolving legal health care environment.
She focuses her practice in civil and administrative litigation, with a concentration in professional licensure defense before licensing Boards, such as the New Jersey State Board of Medical Examiners (BME), the New Jersey State Board of Dentistry, the New York Office of Professional Medical Conduct (OPMC), and the New York Office of Professional Discipline (OPD); hospital medical staff matters; and hospital disciplinary actions, including hospital summary suspensions and fair hearing.
Lana also represent clients in investigations, audits, and refund demands by private insurance companies, Medicare, and Medicaid, as well as in fraud and abuse investigations by federal agencies, including the Office of Civil Rights (OCR) and the Office of the Inspector General (OIG), and by state agencies such as departments of health (DOH), banking and insurance (DOBI), and state attorneys general (AG).
She handles diverse transactional and regulatory matters that affect health care professionals and businesses by counseling healthcare providers on how to deal with the constantly evolving medical marketplace. This includes advising clients on mergers and acquisitions, various business ventures, and creative health care business arrangements. In addition, she counsels and assists clients in regulatory compliance, including HIPAA/HITECH, Anti-kickback Statutes, and Stark Law, and respective state regulations.
Lana serves as outside counsel to numerous medical practices and businesses in New Jersey and New York, as well as various medical societies. She handles clients' practice management matters and assists clients in the day-to-day operation of their health care business, including employment contracts; coding and billing compliance; operating, shareholder and vendor agreements; practice acquisitions and sales; and employee handbooks.
Lana also assists clients in the highly regulated industries of medical cannabis and cannabis-derived products, such as cannabidiol (CBD). She assists cannabis entrepreneurs and health care professionals with navigating the complex developing laws, including those related to authorization of medical cannabis, permitting and licensing, distribution, production, research, testing, and general business operations.
Additionally, Lana is a sought-after presenter and frequently lectures throughout New Jersey and New York on wide ranging legal issues affecting healthcare professionals.
Professional/Civic Activities
Vice Chair, New Jersey State Bar Association Health Law Section
Trustee, Somerset County Bar Association
Morris County Bar Association
District XA Ethics Committee, East Morris and Sussex Counties
Healthcare Steering Committee, CIANJ
Business Law Section, New Jersey State Bar Association
Women in the Profession Section, New Jersey State Bar Association
Cannabis Law Special Section, New Jersey State Bar Association
Women in Business Forum, Morris County Chambers of Commerce
Member, District Ethics Committee for District XA
Bar/Court Admissions
New Jersey, 2007
New York, 2008
Commonwealth of Pennsylvania, 2014
United States District Court for the District of New Jersey, 2007
United States District Court for the Eastern District of New York, 2011
United States District Court for the Southern District of New York, 2011
Education
B.S., Cook College at Rutgers, The State University of New Jersey, 2003
J.D., Seton Hall University School of Law, 2007
---
Pashman Stein Walder Hayden P.C.
Many of Pashman Stein Walder Hayden's appellate clients are referred to us by other law firms that have successfully (or unsuccessfully) represented the client at trial, but require our firm's experience to protect the judgment on appeal (or to demonstrate the reversible errors committed below).
Our attorneys have regularly appeared before the New Jersey Supreme Court and the Appellate Division and the Third Circuit Court of Appeals on a wide range of issues. Pashman Stein Walder Hayden attorneys have mastered the art of condensing voluminous trial records into cogent, forceful arguments that demonstrate the merits of our clients' position.
In crafting their written arguments and preparing for oral argument, Pashman Stein Walder Hayden attorneys draw on retired New Jersey Supreme Justice Gary Stein's unique insight and experience, reflected in the more than 365 majority and dissenting opinions he authored during his 17 year tenure as an Associate Justice of the New Jersey Supreme Court, which cover virtually every area of New Jersey state law, including education, constitutional law, insurance coverage, zoning and land use law, civil and criminal procedure, and attorney discipline.
Pashman Stein Walder Hayden also routinely serves as co-counsel with other law firms to assist them in the preparation of appellate papers. Our attorneys also have been called upon to help other firms frame their arguments on appeal, to prepare petitions for certification to the New Jersey Supreme Court, and even to serve as moot court judges to prepare for oral argument.