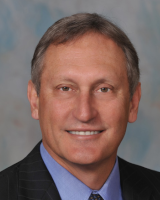 Stephen A. Ecenia
Firm: Rutledge Ecenia
Location: Tallahassee - FL
119 South Monroe Street, Suite 202




Tallahassee, Florida 32301-1591




USA
Tel : (850) 681-6788

Fax : (850) 681-6515

Email : steve@rutledge-ecenia.com

Stephen A. Ecenia is a founding principal of Rutledge Ecenia, P.A. and serves as President of Rutledge Ecenia, P.A. He has been practicing Administrative and Health Law in Tallahassee since 1982. He has more than 30 years of experience in the practice of administrative and governmental law in Florida and has served as lead counsel in numerous complex administrative hearing. He regularly advises clients on legislative affairs, drafting major health care legislation and appearing before various legislative committees.
Mr. Ecenia received a Bachelor of Arts degree with High Honors from the University of Florida in 1977 and his Juris Doctorate Degree from Florida State University in 1980, where he was a member of the Moot Court Team. He has been a member of the Florida Bar since 1981. Mr. Ecenia has lectured for the Administrative Law Section of the Florida Bar, as well as the Boards of Directors of various organizations. Mr. Ecenia is the author of "The Variability of Competent Substantial Evidence," which was published in the Florida Bar Journal. He received Board Certification as a Specialist in State and Federal Government and Administrative Practice in the first Board Certification by the Florida Bar for this legal specialty. Mr. Ecenia has been recognized as a Florida Super Lawyer in the Healthcare practice area for 2014.
Mr. Ecenia began his professional career in the Florida House of Representatives, serving as counsel to the Speaker of the Florida House of Representatives and as staff counsel to the House Judiciary Committee. He began the private practice of law in 1982 and in 1992 became one of the founding principals of the Firm then known as Rutledge, Ecenia, Underwood & Purnell. Mr. Ecenia has received Martindale-Hubble's highest level of recognition, an AV rating and has been selected to the Martindale-Hubbell 2018 Superlawyer list by his peers.
Mr. Ecenia has principally focused his career on the representation of health care clients and has represented virtually every type of health care entity throughout the course of his career, including hospitals and health care systems, managed care organizations, clinical laboratories, home health agencies, hospice providers, and physicians in matters involving certificates of need, licensure, legislative affairs, regulatory compliance, transactions and litigation.
Mr. Ecenia has represented a wide array of clients in Circuit Court, the District Courts of Appeal and the Supreme Court of Florida in matters involving the constitutionality of Florida Statutes, commercial disputes, and other matters of administrative law. He has served as General Counsel to a statewide Association of over 4,000 members, and, currently serves as General Counsel to the Florida Birth-Related Neurological Injury Compensation Association.
Mr. Ecenia has served as President of the Capital Cultural Commission and on the Executive Committee of the Board of the Brogan Museum of Art and Science. He is currently a member of the Board of Directors of Grapes for Humanity Global Foundation, an international not-for-profit organization whose primary mission is to provide prosthesis to victims of landmines and natural disasters around the world.
---
Rutledge Ecenia
Rutledge Ecenia regularly represents a broad spectrum of health care clients including some of the largest health care systems and managed care entities in the world. We routinely represent acute care and specialty hospitals, physician practice groups, general hospitals, specialty hospitals, mental health centers, nursing homes, home health agencies, hospices and ambulatory surgical centers.
Our representation covers the full range of legal and business issues that face the health care industry. These include certificates of need, mergers and acquisitions, contract preparation and review, disciplinary actions, fraud and abuse, licensing, litigation, managed care contracting and payment issues, medical staff issues, physician and group practice representation and reimbursement disputes with Medicare and Medicaid. We routinely represent clients in matters of health care litigation before the Florida Agency for Health Care Administration, the Department of Health, and the various regulatory boards for health care professionals.
We are integrally involved in the strategic and business planning of our clients and serve as counselors as well as lawyers to them. We have extensive experience in complex health care transactions and in the regulation of the health care profession by state and federal agencies.