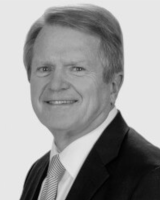 Philip J. Smith
Firm: The Van Winkle Law Firm
Location: Asheville - NC
11 North Market Street




Asheville, NC 28801




USA
Tel : (828) 258-2991

Fax : N/A

Email : psmith@vwlawfirm.com

Phillip Smith is a principal with The Van Winkle Law Firm, where he practices in the areas of healthcare, construction, professional malpractice defense, products liability, banking, and commercial law. Since joining the firm in 1972, he has supported the business operations of professionals in accounting, architecture, dentistry, engineering, and law. He successfully defended physicians and their practices against multi-million dollar claims of negligence and defended a hospital in a similarly large claim asserting deprivation of due process, freedom of speech, breach of contract, slander and contract interference.
Practice Highlights
Successfully defended local hospital in U.S. District Court in a multi-million dollar claim commenced by a surgeon as a result of his medical privileges being summarily suspended at the recommendation of the hospital's medical staff. The action asserted claims for deprivation of due process, freedom of speech, breach of contract, slander and contract interference. The case is on appeal to the Fourth Circuit Court of Appeals.
Unwinding of two major medical practices and successful negotiation of terms without litigation or alternative dispute resolution and no interruption of practice business.
Jury verdict in favor of a surgeon who bypassed the wrong coronary artery alleged to have been the result of negligence causing the plaintiff to sustain a subsequent myocardial infarction.
Successful defense of multiple physicians and an academic medical center in a $24 million impaired baby case.
---
The Van Winkle Law Firm
The Van Winkle Law Firm understands the unique challenges facing single and multi-physician practices, hospitals and academic medical centers. We take a practical approach to these operational, regulatory and litigious matters, drawing on our team's vast realm of experience and expertise in a variety of disciplines, to help healthcare providers adapt to and improve in a quickly evolving environment.
Our professionals hold membership in organizations that include the American Health Lawyers Association, the American Society for Healthcare Risk Management, the Defense Research Institute and the North Carolina Association of Defense Attorneys. Our success has included defending physicians and hospitals against malpractice claims, representation in EEOC investigations, and negotiating terms and unwinding medical practices without litigation nor disruption to the daily operations of clients' practices.