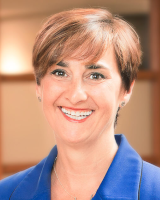 Linda J. Cohen
Firm: Dinse
Location: Burlington - VT
209 Battery Street




Burlington, Vermont 05401




USA
Tel : 802-859-7011

Fax : 802-862-6409

Email : lcohen@dinse.com

As a leading healthcare regulation attorney in Vermont, I am passionate about working alongside healthcare organizations and providers to navigate the evolution from fee-for-service to value-based reimbursement. I bring a deep level of understanding of the barriers faced by providers beyond the law itself, including cultural, financial, operational, employment, privacy, and technological. I work in collaboration with clients to ensure these barriers do not inhibit their success. My practice is solutions-oriented; I believe in identifying goals at the outset and in working together towards identifying solutions. My studies of healthcare delivery science and experience in change management allow me to continue to support organizations and individuals throughout implementation and evaluation of the solutions we have reached.
My goal is to provide strategic regulatory and legal advice to healthcare organizations as they implement organizational, structural and financial changes based on changing federal and state reimbursement mandates. As a recent graduate of Dartmouth's Masters of Health Care Delivery Science program, I am able to offer healthcare organizations a level of business knowledge, operational expertise and legal skill that is not available elsewhere in the state. With secure knowledge of the current system, as well as the goals for the future, I am able to guide clients to success in both venues.
I have substantial experience in reimbursement issues involving both governmental and commercial payors, having litigated many disputes to conclusion and resolved many through negotiation. I regularly work with organizations participating in Vermont's All Payer Model partnership with The Centers for Medicare & Medicaid Services (CMS).
Experience
Successfully challenged limitation on use of prescriber identifiable data for PhRMA, Sorrell v. IMS Health, 131 S.Ct. 2653, 564 U.S. 522 (2011).
Negotiated and drafted shared savings program agreements with Vermont Medicaid and commercial carriers on behalf of accountable care organizations.
Regularly work with accountable care organizations on governance, contracting, compliance and strategy.
Secured Certificate of Need for Genesis Healthcare to purchase 11 skilled nursing facilities.
Negotiated exclusions of provider tax on home health agencies for out of state revenues and pass through revenues.
Negotiated exclusion of nursing home transfer tax for transfer of real property on which home was located.
340B contracting.
Secured return of over $1,000,000 to Vermont hospitals by the State Medicaid Agency, DVHA, as a result of underpayments resulting from the implementation of OPPS.
Obtained a reduction of Medicaid lien on personal injury settlement proceeds before the Vermont Supreme Court.
Participated in the formation of the Vermont Health CO-OP.
Participated in the development of the skilled nursing facility IIDR process for Vermont.
Received favorable IIDR decision on nursing home survey recommending removal of several IJ and substandard citations.
Negotiate commercial reimbursement contracts.
Professional Affiliations
American Health Lawyers Association
Vermont Bar Association
National Association of Accountable Care Organizations
Healthcare Financial Management Association
Vermont Association of Hospitals & Health Systems
---
Dinse
Given today's healthcare landscape, healthcare law is currently one of the most dynamic and exciting areas of practice, and our practice group is focused on serving players across the industry, applying extensive experience, proactive insight and cutting-edge knowledge of today's key issues. Our attorneys possess a wide range of knowledge and experience that allows us to meet the diverse legal needs of healthcare clients, including regulatory compliance, tax matters, employment, litigation, governance, intellectual property and more. Our goal is to provide strategic, goal-oriented and timely counsel, tailored to each client's unique circumstance, culture and objectives.
We have particular strength in providing strategic regulatory and legal advice to providers as they implement systemic changes based on changing federal and state reimbursement mandates, guiding clients through the evolution to value-based reimbursement, compliance with federal fraud and abuse laws, the Affordable Care Act, ERISA, HIPAA and Part II and enrollment and participation in Medicare and Medicaid. Our attorneys are able to offer healthcare providers a level of business knowledge, operational expertise and legal skill that is not available elsewhere in the state.
We work regularly with Accountable Care Organizations (ACOs) in Vermont's All-Payer Model to assist ACOs develop their models and comply with applicable regulations. As the demand to share health information has increased we have been at the forefront offering expertise in data management in the healthcare space, including with health information exchanges, organized health care arrangements and large-scale data sharing compliance.
Our healthcare attorneys work at the leading edge of the changes shaping the industry and can be regularly found making presentations concerning this expertise at local and national meetings and seminars, and appear regularly before state agencies to advise them on matters affecting the healthcare industry.