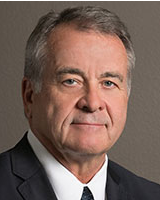 Leland Eugene Backus
Firm: Backus, Carranza & Burden
Location: Las Vegas - NV
3050 South Durango Drive




Las Vegas, Nevada 89117




USA
Tel : (702) 872-5555

Fax : (702) 872-5545

Email : genebackus@backuslaw.com

Leland Eugene Backus, J.D., C.L.M.P. is a Juris Doctor graduate of University of California at Los Angeles having received honors in the Order of Barristers and Moot Court. He obtained his Bachelor of Arts degree at University of Nevada at Las Vegas in Economics in 1969.
Mr. Backus is a member of the American Health Lawyers Association trained and approved arbitrator with the American Arbitration Association.
He has been awarded the designation of Certified Litigation Management Professional.
He is an author for the Nevada Civil Practice Manual and has authored several articles in the field of litigation. He has lectured on an international basis on a variety of topics pertaining to pharmaceutical and medical device litigation, mass disaster litigation, computer use in litigation, litigation practice, construction law, claims presentation, insurance law, and a variety of litigation and procedural areas of the law.
Mr. Backus was chief trial counsel or special counsel in the diet drug litigation, MGM Grand Fire Litigation, Hilton Hotel fire litigation, PEPCON plant explosion litigation, asbestos litigation, Agent Orange litigation, bone screw litigation, tobacco litigation, Redux litigation, Yellow Brass litigation and City Center litigation.
Mr. Backus is director of Eagle International Associates, Inc., a network of law firms and adjustors throughout the United States, Canada, and Europe. Mr. Backus is a member of the ABA Forum Committee on Construction Industry for Construction Management, Design/Build and Related Concepts. He has been appointed as Nevada Chairperson of the Defense Research Institute Construction Law Committee Marketing/Publicity Subcommittee.
Mr. Backus was a trustee and past chairman of the Nevada Law Foundation, past president of Big Brothers and Big Sisters of Southern Nevada, past director of The Dr. Martin Luther King, Jr. Committee, past charter president of the Exchange Club of Las Vegas, and former Chairman of the State of Nevada Certified Court Reporters Board. Currently, he is Chairman, Director and Secretary for the 501(c)(3) charity, Send Me On Vacation, Inc., which sends low income breast cancer survivors on healing vacations following treatment.
Mr. Backus is a founding benefactor of the Nevada Law Foundation Colleagues and received a Certificate of Special Congressional Recognition for helping start this program.
---
Backus, Carranza & Burden
Representing clients through complex issues is a specialty of Backus, Carranza & Burden. Often, in the case of health care, issues can escalate quickly and businesses can find themselves suddenly on the defensive. That's where a qualified, knowledgeable team can save you money – often millions of dollars. Backus, Carranza & Burden lawyers are experienced in representing physician groups, hospitals, professional liability insurers, medical device manufacturers and pharmaceutical companies. Following are some special considerations to bear in mind:
Representing health professionals and other industry clients in negotiations, contract development and practice planning to dispute resolution in arbitration, mediation and trial.
Active member of the American Health Lawyers Association and American Arbitration Association.
Firm members educate the industry by speaking on a wide variety of health issues.
Have litigated health issues through the Ninth Circuit Court of Appeals to the United States Supreme Court.
Have been successful in securing multi-million dollar recoveries for our clients.
Have assisted physician groups in going public on the New York Stock Exchange.
Counseling for hospital and physicians in federal and state law compliance advice in fraud, self-referrals and false claims.
Claims and lawsuits in both state and federal courts involving covenants not to compete, confidentiality agreements and other restrictive covenants.
Business organization development and representation, employee/independent contract preparation.
Credentialing and peer review representation.
Acting in the capacity of an arbitrator/mediator in health industry complex disputes
Authored the Nevada section for several 50 state surveys published by the ABA Section on Litigation, Committee on Product Liability, Subcommittees on Pharmaceuticals and Medical Devices involving various issues ranging from FDA based torts, punitive damages, and the learned intermediary doctrine.