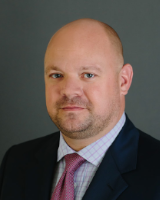 John W. Leardi
Firm: Buttaci Leardi & Werner LLC
Location: Princeton - NJ
212 Carnegie Center, Suite 202




Princeton, NJ 08540




USA
Tel : 609.799.5150

Fax : 609.799.5180

Email : jwleardi@buttacilaw.com

Mr. Leardi is a 2004 cum laude graduate of the Seton Hall University School of Law, where he served as an editor of the Seton Hall Law Review and won the Eugene R. Gressman Moot Court Competition. He is admitted to practice in New York and New Jersey.
Mr. Leardi joined Buttaci & Associates, LLC in October 2005 as a Member, resulting in the Firm changing its name to Buttaci & Leardi, LLC, and served as the Managing Member of the Firm from January 2012 to September 2014. Today, he manages the Firm's Health IT practice and co-manages the Firm's Civil Litigation practice.
Mr. Leardi represents a diverse range of individual and institutional healthcare clients in both adversarial and transactional matters arising out of their business dealings and contracts. To that end, he regularly handles matters related to: corporate formation, restructuring, and dissolution; commercial contracts and leases; employer/employee relations; restrictive covenants; insurance coverage and reimbursement; business torts; administrative and regulatory compliance; health information technology; and the protection of confidential and proprietary information.
Mr. Leardi's litigation practice includes a special emphasis on representing healthcare providers in reimbursement disputes, including: post payment audits; overpayment disputes and litigation; insurance fraud investigations and prosecutions; claims for unpaid or underpaid benefits; and facility rate-setting appeals. Because of his knowledge of private insurance reimbursement, Mr. Leardi supports the Firm's role as co-counsel in several class action lawsuits aimed at protecting both patients and providers from the financial abuses of some managed care companies.
Mr. Leardi sits on the Board of Directors of and serves as General Counsel to Nemo Health, LLC, a privately-held health IT company with a diverse portfolio of software and service-based holdings, including electronic health records, clinical practice management systems, revenue cycle management, and various other healthcare management solutions.
---
Buttaci Leardi & Werner LLC
Our Firm was originally founded by Vincent N. Buttaci, Esq., in October 2004 as Buttaci & Associates, LLC, a health law boutique catering specifically to licensed health care providers and their practices.
In November 2005, John W. Leardi, Esq., joined the Firm as a Member, at which time the firm was re-named Buttaci & Leardi, LLC.
Paul D. Werner, Esq., joined the Firm in September 2008 as an Associate Attorney. Mr. Werner was promoted to Member on January 1, 2012. On January 1, 2016, Mr. Werner became a named member of the Firm, which became Buttaci Leardi & Werner LLC.
The Firm's main office is in the Carnegie Center, on Route 1 in Princeton, NJ. The Firm also has a satellite office in the Tarrytown Business Complex in Tarrytown, NY, about 25 miles north of New York City on the Hudson River.
Each professional at Buttaci Leardi & Werner, LLC has a unique set of skills, experiences, and talents. Indeed, we are as diverse as the clients we serve.
It is that diversity that allows us to constantly challenge each other, to see every side of the complex challenges our clients often face, and to collectively find creative and cost-effective strategies to achieve our clients' goals.
Talk to us and our passion and commitment becomes quickly evident. Engage us and you will see how our progressive, proactive ideas can benefit your business.