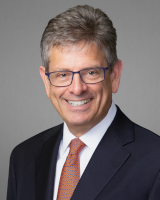 John S. Serpe
Firm: Serpe Andrews, PLLC
Location: Houston - TX
AMERICA TOWER 2929 Allen Parkway, Ste. 1600




Houston, Texas 77019




USA
Tel : 713 452 4400

Fax : 713 452 4499

Email : jserpe@serpeandrews.com

John has over 30 years of experience as a trial lawyer, specializing in medical malpractice and pharmaceutical defense, health care liability, health care advising and health care law, as well as general litigation. He has tried more than 35 cases to verdict. John has been lead counsel in the defense of hospitals and physicians in a broad range of cases involving such issues as catastrophic injury, neurological damage, paralysis, limb loss, death, sexual misconduct and psychological injury.
John was involved in the trial and appeal of two major malpractice decisions in Texas – Miller v. HCA and Romero v. HCA. Miller v. HCA involved the resuscitation of a baby who suffered catastrophic neurologic damage. A unanimous Texas Supreme Court affirmed a judgment for the Hospital in this seminal case. In Romero v. HCA, an appeal was successfully defended on issues of malicious credentialing through the Texas Supreme Court.
As a result of his experience in these cases, John is frequently called upon to lecture and advise health care providers about issues relating to the care of premature infants and credentialing of physicians. He has written and lectured to numerous physicians, attorneys, and hospital groups on the defense of medical malpractice cases. He serves on various committees at hospitals in the greater Houston area, assisting with the improvement of health care.
John advises healthcare clients on a wide variety of matters, including compliance with HIPAA and other laws regulating the confidentiality of health care information, maintenance and protection of peer-review privileges, the Advanced Directives Act, issues regarding obtaining court orders in emergent circumstances, and other state and federal laws regulating both health care providers and institutions. John has tried cases throughout Texas, including courts in Harris, Jefferson, Galveston, Montgomery, Ft. Bend, Wharton, Bexar, Brazos, Nueces, Cameron, Washington, El Paso and Hidalgo counties. He is also a licensed attorney in New Mexico and Missouri, and is currently defending cases in those states.
Areas of Practice
Medical Malpractice
Health Care Issues
General Litigation
Relevant Experience
Obtained defense verdict as lead attorney in the defense of a cardiac death case regarding allegations of improper advice and treatment from a cardiologist.
First chair trial during first year of practice in loss of vision case for an ophthalmologist which resulted in defense verdict.
Defense verdict, first chair trial, for a dermatologist in improper use of medications allegedly resulting in permanent nerve damage.
Defense verdict, first chair trial, for a gastroenterologist based on allegation of improper care resulting in death from a ruptured colon during a colonoscopy procedure.
Favorable settlement in third week of trial as first chair in a leg amputation case on behalf of podiatric surgeon.
Defense verdict, first chair trial, in Complex Regional Pain Syndrome claim versus nurse and hospital.
Favorable resolution in second week of trial as first chair in an adult brain damage from meningitis case.
Defense verdict, first chair trial, in spinal epidural abscess case on behalf of a hospital based on improper care allegations against a nurse.
Favorable verdict in improper discharge of patient on narcotics resulting in car accident in which patient suffered brain damage and subsequently died.
Defense verdict, first chair trial, in improper treatment of pelvic disease resulting in infertility on behalf of ER physician.
Involved in major appellate decision involving ad litem fees.
Co-counsel in neurological injury case from radiological procedure resulting in a defense verdict.
Co-counsel in decubitus ulcer death case resulting in favorable second week of trial.
Second chaired defense of a hypoxic brain injury claim against hospital and physician which resulted in defense verdict. Formulated defense plan against allegations of improper use of Pitocin and fetal monitoring errors on behalf of nurses named individually as well as hospital client.
Assembled defense team of experts to assist in case presentation spanning several medical specialties including OB/gyn, neonatology, and pedi-neurology.
Education
University of Virginia School of Law, J.D., 1983
University of Virginia College of Arts and Sciences, B.A., History with Distinction, 1980
Admissions
State Bar of Texas
State Bar of New Mexico
State Bar of Missouri
United States District Courts for the Southern, Eastern and Western Districts of Texas
United States District Court for the District of New Mexico
Supreme Court of the State of New Mexico
United States Court of Appeals for the Fifth and Tenth Circuit
Memberships and Affiliations
American Bar Association
Houston Bar Association
Bar Association of the United States District Court for the District of New Mexico
Texas Association of Defense Counsel
Health Law Section, State Bar of Texas
American Society for Healthcare Risk Management
Greater Houston Society of Healthcare Risk Managers
Texas Bar Foundation
American Health Lawyers Association
Defense Research Institute
Fellow member of The Litigation Counsel of America
American Board of Trial Advocates
New Mexico Defense Lawyers Association
Honors
Texas Super Lawyers, 2008-present
Super Lawyers, Corporate Counsel Edition, 2009-present
Martindale-Hubbell AV Preeminent Peer Review Rating, 2007-present
Martindale-Hubbell 2014 Top Rated Lawyers in Medical Malpractice Law
Who's Who in American Law, 1989
Distinguished Student Award, 1983; University of Virginia
Raven Award, 1983; University of Virginia
Arthur P. "Pete" Gray Scholarship Award, 1978
Omicron Delta Kappa
---
Serpe Andrews, PLLC
Serpe Andrews represents health care providers in several areas of health care litigation, including matters involving anti-kickback and Stark laws, medical staff peer review and staff privilege disputes, medical device and pharmaceutical litigation, covenant not to compete disputes, federal and state patient privacy laws, medical power of attorney and advanced directives, EMTALA, insurance and managed care disputes, including "prompt pay" claims, employment claims, premises claims, and various contractual disputes. We are experienced in obtaining court orders allowing for physicians and hospitals to employ life saving measures to children and incompetent adults.
Outside of the court system, our health care attorneys provide skilled representation for physicians and nurses before administrative and professional organizations. We understand that a health care provider's license is his or her livelihood. As a result, we work with providers to aggressively defend that license.
We counsel clients on the application of state and federal law to their everyday practice. In addition, our attorneys are asked to provide advice on various administrative and personnel matters designed to prevent litigation. We often provide educational seminars to our clients' employees with the same goal in mind.