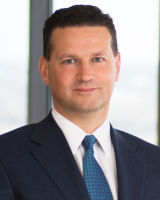 John J. D'Andrea
Firm: Faegre Drinker
Location: Albany - NY
321 Great Oaks Blvd.




Albany, New York 12203-5971




USA
Tel : (215) 988-1140

Fax : (215) 988-2757

Email : john.dandrea@dbr.com

John J. D'Andrea counsels hospitals, health systems, physician groups, ancillary service providers, specialty pharmacy providers and managed care organizations on a broad range of health care transactional and regulatory matters. He has worked as a health care transactional attorney for more than 25 years, and his experience includes mergers and acquisitions, health care joint ventures, managed care contracting and network development, Stark Law and Anti-Kickback Statute analysis, and compliance program and regulatory due diligence reviews. John has extensive experience in provider alignment, including physician recruitment and employment, joint ventures and other hospital-physician relationships.
John serves as a managing partner of the firm and is vice chair of the firm's Health Care Practice Group.
Has long-represented a large New Jersey health system in connection with a wide variety of transactional and regulatory matters. He serves as primary outside counsel on strategic transactions and regulatory issues.
John represents a large, tax-exempt hospital system in North Carolina regarding transactional matters, regulatory counseling, strategic hospital transactions, and physician relationships and joint ventures.
Represents a Colorado academic health system in a broad variety of corporate merger and acquisition transactions, physician relationships and general business and strategic counseling.
Represented a 30-physician cardiology practice in an acquisition/employment transaction with a large mid-western academic medical center. The transaction included the negotiation of terms for the development and operation of a new cardiology program and heart hospital.
John represented a large dermatology practice in a series of transactions with a for-profit practice management company, including an acquisition of the assets of the practice by the management company, and a long-term management agreement under which the management company will provide a full-service management solution for the practice.
Has represented a large, preeminent academic medical center for more than 20 years, including with respect to physician employment and recruitment. He has participate in the acquisition/employment or recruitment of approximately 75 primary care physicians, cardiologists, general surgeons, orthopedic surgeons and ob/gyn physicians.
Recently represented a large health system in the southeast in the buyout of four imaging center joint ventures.
Helped a health system in the northeast negotiate a joint venture with a large retailer. The joint venture involves the development, management and operation of retail health clinics.
Has represented many providers in merger and acquisition transactions involving outpatient dialysis clinics. He has recently represented a large health system in negotiating and structuring a joint venture with a for-profit dialysis provider. The joint venture will own and operate multiple outpatient dialysis clinics.
---
Faegre Drinker
Drinker Biddle is a national, full-service law firm providing litigation, regulatory and business solutions to public and private corporations, multinational Fortune 100 companies and start-ups. Since 1849, we have built a reputation for outstanding legal results and a sophisticated, forward-thinking approach to every client engagement.
Our nearly 575 lawyers across 12 offices combine a comprehensive range of legal services with significant national roles in industries, including—but not limited to— education, financial services, health care, insurance, pharma and life sciences, and retail. Through deep industry knowledge and a commitment to excellence, clients can rely on us to deliver the counsel and insight needed to win complex class actions, close billion-dollar transactions and stay ahead of ever-changing regulations.