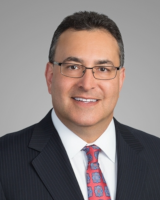 Gary W. Herschman
Firm: Epstein Becker & Green, P.C
Location: Newark - NJ
One Gateway Center




Newark, New Jersey 07102




USA
Tel : 973-639-5237

Fax : 973-639-8924

Email : gherschman@ebglaw.com
Gary W. Herschman is a Member of the Firm in the Health Care and Life Sciences practice, in the Newark and New York offices of Epstein Becker Green. He serves on the firm's Board of Directors, and also on its National Health Care and Life Sciences Steering Committee. Prior to joining the firm, Mr. Herschman was Co-Chair of the Health Care Practice Group of a large regional law firm.
Mr. Herschman represents a diverse group of health care clients, including health systems, hospitals, large physician groups, nursing homes, long-term care facilities, ambulatory surgery centers, home health companies, private equity and other investment funds specializing in health care companies, ambulance companies, dialysis companies, imaging centers, medical marijuana/cannabis providers, specialty care networks, management services organizations (MSOs), and other health care businesses.
Mr. Herschman advises and assists health care providers in strategically positioning themselves in the rapidly changing health care marketplace. This includes advising clients in regard to consolidations, affiliations, mergers and acquisitions, as well as, joint ventures, physician alignment, clinically integrated networks, ACOs, MSOs, IPAs, PHOs, and population health contracts. Mr. Herschman also advises health care clients on regulatory compliance (federal and state), Stark, fraud and abuse, corporate compliance, HIPAA, government investigations, and civil and administrative health care litigation.
Mr. Herschman is a frequent speaker at local and national conferences on a variety of cutting-edge health care law issues, with a focus on strategic transactions for physician groups, hospital consolidations, affiliations and acquisitions, hospital-physician alignment transactions, the formation of ACOs and CINs, regulatory compliance issues (Stark, fraud and abuse, etc.), major clinical and facility joint ventures, recent government enforcement initiatives, reducing whistleblower exposure, and conducting "Stark" audits of hospital-physician arrangements. He also has authored many articles on current health care law issues published in local and national publications.
In addition, Mr. Herschman serves as Chair of the Fraud & Abuse Practice Group of the American Health Lawyers Association, and is a member of the Editorial Boards of Bloomberg Law's Health Law & Business and Health Care Compliance Association's Compliance Today.
---
Epstein Becker & Green, P.C
Epstein Becker & Green, P.C., is a national law firm with a primary focus on health care and life sciences; employment, labor, and workforce management; and litigation and business disputes. Founded in 1973 as an industry-focused firm, Epstein Becker Green has decades of experience serving clients in health care, financial services, retail, hospitality, and technology, among other industries, representing entities from startups to Fortune 100 companies. Operating in locations throughout the United States and supporting domestic and multinational clients, the firm's attorneys are committed to uncompromising client service and legal excellence.