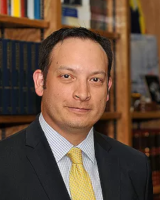 Gabriel D. Mallard
Firm: Mallard Gardner, PLLC
Location: Little Rock - AR
1422 Scott Street




Little Rock, AR - 72202




USA
Tel : 501.850.8501

Fax : 844.778.1750

Email : gabriel.mallard@mallardgardner.com

Gabriel D. Mallard, a founding member of Mallard Gardner, PLLC, advises healthcare clients, hospitals, nursing homes, clinics, medical centers and physicians in litigation matters, licensing issues, medical staff bylaws and rules, arbitration of contract disputes, credentialing, employment matters, physician's contracts, administrative appeals, and insurance disputes
He assists facilities of all sizes with corporate governance including the drafting and implementation of corporate compliance programs, corporate bylaws, and organizational structures.
Additionally, he advises clients on matters related to HIPAA and HITECH, compliance with the Stark Law and anti-kickback statute as well as other fraud and abuse matters.  He has represented clients in investigations and audits by AdvanceMed, Novitas, Arkansas Medicaid, CMS and other regulatory bodies.
Recognition's
Mallard has been recognized as a Rising Star in the area of Healthcare Law by Super Lawyers in 2012, 2013 and 2014.  He has received an AV Peer Rating in Healthcare and Contracts from Martindale-Hubbell.  In 2014, he was recognized by Soiree Magazine as a top attorney in Central Arkansas in the area of Corporate Law.
Admissions
Mr. Mallard is admitted to practice in the State of Arkansas, in the Eighth Circuit Court of Appeals, and the United States District Courts of Arkansas.  He is registered to practice before the Departmental Appeals Board for Medicare matters.  In addition, he has represented clients before numerous professional boards and other administrative agencies such as the Arkansas Department of Human Services and the Centers for Medicare & Medicaid Services.
Professional Associations
Gabriel D. Mallard is a member of the Pulaski County, Arkansas, American Bar Associations, and the American Health Lawyers Association.  He is also a member of the Judge William R. Overton Inn of Court.
Education
Mr. Mallard is a 2005 graduate of the University of Arkansas at Fayetteville School of Law, where he was a member of the Board of Advocates and the Phi Delta Phi Honors Fraternity.  He represented the University of Arkansas in the Region IX National Moot Court Competition in 2004 and the Regional Negotiations Competition in 2003.  In 2004, Gabriel won the Benjamin J. Altheimer Moot Court Competition, in which he was named "Best Oralist".
---
Mallard Gardner, PLLC
With more than 30 years of providing representation to healthcare clients, the attorneys of Mallard Gardner are uniquely positioned to assist those involved in the healthcare industry today. Having represented clients ranging from the solo practitioner to large hospital systems, the attorneys of Mallard Gardner have experience with clients of all sizes. For many clients, Mallard Gardner has played a role in implementing employment manuals, HIPAA policies, and Compliance Programs.
Mallard Gardner serves as both healthcare counsel and general counsel for several hospitals throughout the state of Arkansas. In that role, we advise clients in matters ranging from governmental compliance to mergers and acquisitions. Other matters upon which we advise include physician relations and medical staff bylaws, contract negotiations, and audit responses.
We also serve as counsel to physicians, clinics, hospices, nursing homes, non-profit entities, and governmental hospitals.
We represent clients before the Arkansas State Medical Board, Arkansas State Board of Nursing, Arkansas Health Services Permit Agency, Office of Long Term Care, Arkansas State Board of Pharmacy, Arkansas Medicaid Inspector General, Arkansas Department of Health and the Arkansas Department of Human Services. We have also represented clients in matters related to Medicare/Medicaid, CMS, DEA and the Office of Inspector General.
There is constant change in the healthcare industry. In order to be successful, you must be innovative and flexible. Mallard Gardner can assist you in preparing and protecting your healthcare entity.