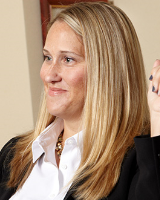 Erin E. Rhinehart
Firm: Faruki PLL
Location: Dayton - OH
110 N. Main St. Suite 1600




Dayton, OH 45402




USA
Tel : (937) 227-3714

Fax : N/A

Email : erhinehart@ficlaw.com

Erin is an experienced trial lawyer with first chair jury trial experience.  Her commercial litigation practice includes extensive health care industry practice including review of physician contract issues, EMTALA, balance billing, payor/provider issues, tortious interference, fraud, and various consumer claims.  She has defended hospital systems and payors against class action allegations relating to billing, contracting, fraud, consumer complaints, and related issues.  She also has experience litigating payor/provider disputes, as well as experience reviewing and negotiating physician contracts.  In addition to her health care experience, Erin frequently defends consumer class actions, and litigates various media and communication issues, intellectual property issues, and contract issues.  Representative matters include:
Columbus Spine Specialists v. CareSource, Case No. 2020-cv-2374 (Montgomery Cty. Ohio) (defense of claims relating to provider contract and drug screen policies)
Rupp, et al. v. Premier Health Partners, et al., Case No. 18-cv-1916 (Montgomery Cty. Ohio) (defense of class action)
Lima Memorial Hospital v. Dr. Almudallal M.D., Case No. CV-2015-0329 (Allen Cty. Ohio) defense of tortious interference claims)
CareSource v. Anesthesiologists D.O., et al., Case No. 2019-cv-2449 (Montgomery Cty. Ohio) (prosecution of breach of contract and fraud claims)
Desai, et al. v. CareSource, et al., Case No. 2018-cv-1133 (Montgomery Cty. Ohio) (defense of class action)
Rikos, et al. v. The Procter & Gamble Company, Case No. 1:11-cv-226 (S.D. Ohio) (defense of consumer class action)
Reed Elsevier Inc., through its LexisNexis Div. v. Legal Research Center, Inc., Case No. 3:15-cv-00256 (S.D. Ohio) (prosecution of breach of licensing agreement)
Operation: Heroes, Ltd. v. The Procter & Gamble Company, et al., Case No. 2:12-cv-00214 (D. Nev.) (defense of breach of contract claims)
George, et al. v. Cargill, et al., Case No. 10CV028536 (Preble Cty. Ohio) (defense of class action lawsuit involving water contamination)
Awards and Honors
Premier Health Care Lawyers – Exclusive Featured Attorney for Dayton  2019 – 2020; 2021-2022
Benchmark Litigation, Local Litigation Star recognition, 2016-2018 (honoring the achievements of the nation's most accomplished legal partners forty or younger)
America's Top 100 Bet-the-Company Litigators – 2018-2021
Super Lawyers – 2019-2022
Super Lawyers – Rising Star, 2014-2018
Dayton Business Journal – Power 50 Honoree, 2018-2020 (recognized as one of the most influential women in business in Dayton)
---
Faruki PLL
Complex litigation has been the focus of Faruki since our founding in 1989. Building on a strong core of established Dayton trial attorneys known for their expertise in business law, our reputation has extended to businesses and courts of law across the country.
Our client focus drives the strength of our reputation. Before we develop a legal strategy, we ask our clients: What is your goal? Partnering with our clients early, and communicating responsively, clearly, and with candor, is how we bring our clients' objectives and expectations to life.