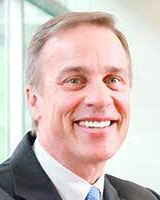 Edward T. Waters
Firm: Feldesman Tucker Leifer Fidell LLP.
Location: Washington - DC
129 20th Street, NW Suite 400




Washington, DC 20036




USA
Tel : 202.466.8960

Fax : 202.293.8103

Email : ewaters@ftlf.com

Serving as Managing Partner of the firm since 2003, and a member of the Health Law and Federal Grants practices since 1992, Edward (Ted) T. Waters focuses his practice on helping organizations to solve problems, often in crisis situations. A national authority in the area of federal grants particularly in the health and community service spheres, he advises clients on all aspects of program requirements, including issues such as cost-based reimbursement, governance and the never-ending list of grant administration matters. Representative client matters include advising on Section 330 of the Public Health Service Act, payment requirements under Medicare and Medicaid for FQHCs, DSH, Ryan White, PRF and all the other COVID funding streams, and on and on.  Mr. Waters' experience in financial, cost reporting, reimbursement, and administrative issues is widely recognized, and illustrated by his selection as a 2014-2021 Washington, DC Super Lawyer in health care.
Mr. Waters routinely handles challenging issues for clients such as government audits, internal investigations, and litigation, deftly guiding them to a resolution. His priority is to help each organization carry out its mission and ensure that legal challenges do not distract from that focus. From his almost two decades of experience managing the firm, Mr. Waters understands acutely the challenges of keeping an organization running, and offers practical, down-to-earth counsel to support organizational leaders in doing just that.
Throughout his career, Mr. Waters has counseled non-profits, state and local governments, institutions of higher education on an array of federal regulatory matters, has negotiated settlements and agreements, and represented clients in front of state and federal courts, administrative tribunals such as the HHS Departmental Appeals Board, Offices of Inspector General, and federal agencies. Mr. Waters also has extensive experience advising Boards and senior leadership in organizations undergoing major management changes, often in high-profile situations.
Mr. Waters frequently conducts trainings for countless groups across the country such as state and national organizations, local, state, and federal agencies, and private non-profit organizations, including the American Bar Association, National Association of Community Health Centers, and National Head Start Association. Mr. Waters is a Professional Lecturer in Law at the George Washington University Law School, where in 2014, he began teaching the first law school class in the nation on federal grant programs.
Mr. Waters is focused on both the big picture and minutia of the legal challenges facing his clients so that they can focus on their mission. He strives to develop creative solutions to the crises facing his clients so that they are able to continue doing the work they were meant to do.
---
Feldesman Tucker Leifer Fidell LLP.
The Health Law practice group of Feldesman Tucker Leifer Fidell LLP assists community-based health organizations to navigate continued changes to the nation's health care delivery system so that they may continue to provide essential health services to their patients for decades to come. To that end, our attorneys have assisted in the formation of new provider organizations, integrated delivery systems, provider networks, accountable care organizations, practice management networks, managed care organizations, multi-provider joint ventures and contractual affiliations between various types of health care providers.
The attorneys of the Health Care Practice Group share with our clients the belief that health care is a right, not a privilege. For more than 30 years, working side by side with the National Association of Community Health Centers, State and regional primary care associations, we have found and continue to find creative and affordable ways to meet the complex legal service needs of health centers and other safety net providers across the country.
Thoughtful, practical, and resourceful, our attorneys are known for their ingenuity in solving client problems within legal requirements under the Public Health Service Act (such as the Section 330 community health center and 340B drug discount programs), Social Security Act (Medicare and Medicaid programs), Fraud and Abuse Laws (Anti-Kickback Statute, Stark Self-Referral Law, and False Claims Acts), Health Insurance Portability and Accountability Act (HIPAA) Privacy and Security Regulations, Federal Tort Claims Act (FTCA), antitrust laws, and tax-exempt law.
The Health Law practice group offers years of experience assisting clients in a full-range of legal and consulting services including regulatory advice, legal agreements (transactions), compliance programs, and litigation and internal investigations. We also conduct trainings across the country on topics such as corporate compliance, managed care, and effective governance as well as offer consulting services related to grant writing, needs assessments, federal applications.