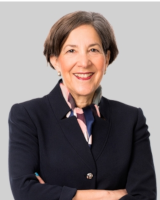 Debra L. Gruenstein
Firm: Fox Rothschild LLP
Location: Denver - CO
1225 17th St. Suite 2200




Denver CO 80202




USA
Tel : 303.446.3878

Fax : 303.292.1300

Email : dgruenstein@foxrothschild.com

For more than 30 years, Debra has focused her practice on health care, transactional and real estate matters. She represents doctors and other non-institutional health care providers in business and regulatory issues.
Debra is particularly fluent in the specific concerns that health care providers must address in their shareholder, partnership and employment agreements. She advises on compliance with the Stark Law and Anti-Kickback Statute, as well as a full range of corporate and business matters, including shareholder, partnership and employment agreements, practice sales, mergers, joint ventures, real estate acquisitions and leases, negotiation of managed care agreements and hospital physician arrangements. In addition, she has worked extensively with ambulatory surgical centers and physician investors in a variety of health care-related ventures.
Debra also represents law firms, architects, chemical companies, restaurants, travel agencies and electronics distributors in corporate, real estate and business transactions.
Before Fox Rothschild
Prior to joining Fox Rothschild, Debra was a name partner at the boutique firm Karafin & Gruenstein. Before that, she was at Wolf, Block, Schorr and Solis-Cohen.
Beyond Fox Rothschild
Debra is a frequent speaker on health law issues. She is an annual lecturer at the American Academy of Pediatrics Career Day.
Honors & Awards
Premier Health Care Lawyers Exclusive Featured Attorney for Denver (2018 -2019)
Named a Pennsylvania "Super Lawyer" (2006)
---
Fox Rothschild LLP
ox Rothschild has grown to a 950-lawyer national law firm with 27 offices by focusing on client service and responsiveness, and by attracting bright and creative lawyers who know how to deliver.
In a word, by listening.
Listening to our clients. Listening to our lawyers.
We give our clients the focus and service of a boutique – with the reach and resources of a national firm.
We provide our lawyers with a national stage and equip them with the platform to nurture innovation and drive client success.
Individuals and businesses – public, private and nonprofit; startup, family-run and multinational – receive our unwavering commitment to client satisfaction.