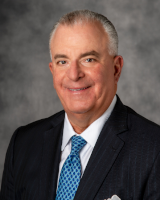 David R. Sherman
Firm: Chehardy Sherman Williams
Location: Metairie - LA
1 Galleria Blvd Suite 1100,




Metairie, LA 70001




USA
Tel : (504) 833-5600

Fax : (504) 833-8080

Email : DRS@chehardy.com

Numerous publications have listed Mr. Sherman as one of the Greater Metropolitan New Orleans Area's professional, business and civic leaders. He is one of the founding partners of Chehardy Sherman Williams and has served on its management committee since its inception. Mr. Sherman has a multifaceted transactional practice. He serves as legal counsel to numerous healthcare providers including full service hospitals, surgery/imaging centers and medical practices. He represents businesses in all aspects of their business planning including structural planning, tax planning, corporate compliance/operations and negotiating all types of contracts. He handles the sale and acquisition of businesses. Mr. Sherman assists individuals in their business planning, tax planning and estate planning.
Mr. Sherman graduated from the Loyola University School of Law in 1977, where he was a member of its Law Review. In 1978, he received his Masters of Law in Taxation from Boston University. He is a Louisiana Board Certified Tax Attorney and Louisiana Board Certified Estate Planning and Administration Specialist. Mr. Sherman is a Fellow of the American College of Tax Counsel and has been awarded the designation of Accredited Estate Planner by the National Association of Estate Planners and Councils.
Awards & Accolades
Selected as Exclusive Featured Attorney for  Metairie – LA, Premier Health Care Lawyers ( 2021-2022 )
Received the highest rating by Martindale-Hubbell Law Directory regarding legal ability and adherence to ethical standards, professional reliability and diligence.
Member of the Lawyers of Distinction ( Class of 2018)
Named to the New Orleans CityBusiness Leadership in Law Hall of Fame
Named to Leadership in Law Top 50 Lawyers by New Orleans CityBusiness in 2007, 2008 and 2009.
Selected for inclusion in Best Lawyers in America (2010 – 2020 editions)
Named Louisiana Super Lawyer (2007 – 2020 editions)
Named to Top Lawyers in the New Orleans area by New Orleans Magazine
Listed in numerous editions of Who's Who in America, Who's Who in American Law, Who's Who in Practicing Attorneys and Who's Who in New Orleans.
Selected by New Orleans Magazine as one of New Orleans'/Jefferson's most influential citizens and a "Person to Watch"
Recipient of the University of New Orleans 1989 Homer L. Hitt Distinguished Alumnus award.
Recipient of the University of New Orleans 1991 College of Business Alumnus of the Year award.
---
Chehardy Sherman Williams
If you're a physician or healthcare provider, you know how challenging it is to stay abreast of today's ever-evolving healthcare regulations. Unless you want to invest a significant portion of your vocational energy into studying the law, you can easily find yourself lost in the dark. Thankfully, you don't have to go it alone!
Since first opening our doors in New Orleans in 1989, Chehardy Sherman Williams has provided a host of legal services for those in the healthcare industry. We handle everything from regulatory check-ups to lawsuits and litigation. Our healthcare attorneys routinely study applicable state and federal statutes to ensure that our knowledge of medical law is always up to date.
We can help your business with:
Compliance
HIPAA law and violations
Contracts and negotiations
Practice and entity formation
Insurance reimbursement issues
As the leading law firm, we provide healthcare-related legal services to major medical institutions and prominent medical professionals throughout the greater New Orleans area. Of course, we also serve much smaller healthcare providers as well. From the very beginning, we've never wavered from our commitment to personalized customer care.
No matter how complex the legal questions you are facing, Chehardy Sherman Williams is ready to roll up our sleeves and get to work. With so much else on your plate, why not outsource your legal needs to a New Orleans lawyer who is already intimately acquainted with healthcare law? If additional help beyond the courtroom ever proves necessary, Chehardy Sherman Williams can also bring in seasoned public relations advisors to help you plot the best course forward.