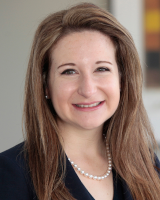 Carol Findling
Firm: Manatt, Phelps & Phillips, LLP.
Location: Costa Mesa - CA
695 Town Center Drive 14th Floor




Costa Mesa, CA 92626




USA
Tel : 714.338.2713

Fax : N/A

Email : cfindling@manatt.com

Carol Findling is a Manatt Health attorney. Carol handles a wide variety of federal and state regulatory issues and transactional matters for clients in the healthcare industry, including hospitals and health systems, physician organizations and trade associations. In particular, she focuses on counseling clients regarding compliance with HIPAA and state privacy law, analyzing regulatory issues such as fee-splitting and referral source arrangements, and providing due diligence review of physician contracts and referral source agreements. She also advises clients about Office of Inspector General (OIG) self-disclosure protocols, change of ownership requirements with respect to licensure and certifications, and assists with issues arising in the course of licensure, Medicare and Medicaid enrollment processes.
Carol's experience includes advising and assisting hospitals, ambulatory surgery centers and physician practices with regard to federal and state fraud and abuse prohibitions, HIPAA and state privacy law, Stark law and the anti-kickback statute, corporate practice of medicine restrictions and reimbursement disputes. She has also liaised with the Department of Health and Human Services Office of Civil Rights (OCR) in the course of alleged privacy violation investigations.
---
Manatt, Phelps & Phillips, LLP.
Manatt is a multidisciplinary, integrated national professional services firm known for quality and an extraordinary commitment to clients. We are keenly focused on specific industry sectors, providing legal and consulting capabilities at the very highest levels to achieve our clients' business objectives.
Our groundbreaking approach—bringing together legal services, advocacy and business strategy—differentiates us from our competitors and positions us to provide a unique and compelling value proposition. We strive to be essential to our clients.
From our roots in banking, entertainment and government, we work with clients from industries as diverse as healthcare, financial services, media, technology, retail and consumer products, real estate, and energy. Our practice mix and deep understanding of the industries that drive the U.S. and global economies benefit clients as we resolve complex and potentially enterprise-threatening disputes, help finance their operations and expand their businesses, and navigate the maze of law and regulation governing virtually all commercial activity.
Our strong presence in America's most important business markets enables us to address and exceed client expectations. Our largest offices are strategically located in Los Angeles, New York, Palo Alto, San Francisco, Orange County, Chicago, Washington, D.C., and Boston. Our state capital offices in Sacramento and Albany provide connections to government decision makers and to solutions that are unavailable from our competitors.
Beyond this energizing work, we are deeply committed to diversity, to public service, to involvement in the communities we serve and to excellence in all we do.