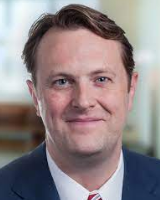 Bobby Guy
Firm: Polsinelli
Location: Nashville - TN
401 Commerce Street Suite 900




Nashville, TN 37219



Tel : 615.259.1510

Fax : 615.259.1573

Email : bguy@polsinelli.com

Bobby Guy believes that the uncertainty surrounding the US healthcare market presents the greatest investment opportunity in healthcare for the last half century. He is a healthcare deal lawyer, and he spends his time focused on growing, buying and selling healthcare companies. In 2016 and 2017, he led the two largest skilled nursing spinoffs in the country each year, involving more than 30 buyers in 25 states in those deals. In the post-acute and behavioral space, his team has bought and sold more than 500 healthcare facilities in the last four years.  He represents clients across the healthcare sector, including:
Senior living and skilled nursing owners and operators
Acute care, post-acute care, and behavioral providers
Life science companies
Private equity fund investors
One of his favorite recent engagements was handling the sale of the last antibiotics manufacturer in the western hemisphere during the COVID pandemic, keeping it under US ownership and preserving its critical infrastructure designation.
With the firm belief that proprietary market intelligence is one of the most important services that a lawyer can provide to clients, in 2014 Bobby co-developed a financial research index comparing distress in the healthcare services sector to distress in the overall U.S. economy. For more information on our distress index findings, please visit Polsinelli/TrBK Distress Indices or go to www.distressindex.com.
Bobby is the host of The 10 Minute HealthBizCast, and he chairs the national Healthcare Dealmaker's Conference in Dallas each May. He is also a frequent speaker and author on healthcare investing and healthcare-related topics. He has appeared on cable news, and has been published or quoted in The New York Times, The Wall Street Journal, CNN Money, The Deal, McKnight's Senior Living, Healthcare Mergers & Acquisitions, Senior Housing News, Health Leaders, The Journal of Corporate Renewal, and HFM, among others.
Distinctions
Selected for inclusion in The Best Lawyers in America® in the field of Corporate Law, 2013 -2021
Selected for inclusion in Corporate LiveWire Global Awards as Securities Lawyer of the Year, 2020
Selected for inclusion in Super Lawyers, 2007 -2020
AV Rated, Martindale Hubbell
M&A Awards
Acquisition International, 2014
Corporate LiveWire, 2015
Selected for inclusion in Who's Who in American Law
Selected for inclusion in Who's Who in America
Selected for inclusion in Who's Who in International Business
Memberships
American Bar Association
American Health Law Association
Nashville Bar Association, Fellow
Education
J.D., Vanderbilt University Law School, 1994, Order of the Coif; Elliot E. Cheatham Scholar; Vanderbilt Law Review, Associate Editor
B.A., summa cum laude , Whittier College, 1991, Presidential Scholar
---
Polsinelli
The Polsinelli Health Care department represents one of the largest concentrations of health care attorneys and professionals in the nation. From the strength of its national platform, the firm advises clients on the full range of hospital-physician lifecycle and business issues confronting health care providers across the United States.
Recognized as a leader in health care law, Polsinelli's Health Care practice rankings include:
National Tier One ranking in Health Care Law by U.S. News & World Report's "Best Law Firms", 2014 – 2021
Ranked as the 2018 "Law Firm of the Year" in Health Care by U.S. News & World Report for the second time in four years
Nationally ranked in Health Care by Chambers USA, 2015 – 2021
Ranked as the largest health care law firm in the nation by American Health Law Association (AHLA), 2021
Ranked as the second largest firm in the nation by Modern Healthcare, 2021
Nationally ranked in Health Care – Service Providers by Legal 500, 2019
Polsinelli's attorneys work as a fully integrated practice to seamlessly partner with clients on the full gamut of issues. The firm's diverse mix of attorneys enables our team to provide counsel that aligns legal strategies with our clients' unique business objectives.  One of the fastest-growing health care practices in the nation, Polsinelli has established a team that includes former in-house counsel of national health care institutions, the Office of Inspector General (OIG), and former U.S. Attorneys and Assistant U.S. Attorneys with direct experience in health care fraud investigations. Our group also includes current and former leaders in organizations such as the American Hospital Association. Our strong Washington, D.C., presence allows us to keep the pulse of health care policy and regulatory matters. The team's vast experience in the business and delivery of health care allows our firm to provide clients a broad spectrum of health care law services