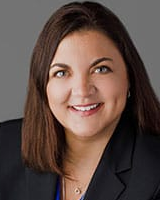 Angie E Lord
Firm: Vogel Law Firm
Location: Fargo - ND
218 NP Avenue




Fargo, ND 58102




USA
Tel : (701) 237-6983

Fax : (701) 237-0847

Email : alord@vogellaw.com

Angie is a trial lawyer with over 20 years of experience with a focus on representing physicians, multi-specialty health systems, hospitals, clinics, and other healthcare professionals in medical malpractice matters in North Dakota and Minnesota. A strategic thinker, Angie serves her clients with dedication and works collaboratively with clients to develop a shared litigation strategy to obtain results so that her healthcare clients can remain focused on serving others.
Angie has been recognized for her professionalism, preparation, and advocacy skills, including attaining the AV Preeminent peer-review rating by Martindale-Hubbell; being inducted as a Fellow of the Litigation Counsel of America, a trial lawyer honorary society with membership limited to one-half of one percent of American lawyers and by invitation only; and being elected into membership of the American Board of Trial Advocates. Angie was first selected for inclusion with the inaugural Great Plains Super Lawyers listing in 2007, and has been included in all subsequent listings since that time, in addition to regularly being included in The Best Lawyers in America since 2006.
In addition to her advocacy at the trial court level, Angie also has experience with appellate advocacy with notable cases on appeal including B.D.H. v. Mickelson, 2010 ND 235, 792 N.W.2d 169, dismissing as a matter of law a wrongful life claim against medical providers, and Hoffner v. Johnson, 2003 ND 79, 660 N.W.2d 909, upholding North Dakota's statute of repose for medical malpractice claims to constitutional challenges.
In addition to advocacy, Angie's health law practice includes counseling medical providers on risk management and claims prevention; as an invited speaker, addressing medical students, healthcare administration students, physician groups and health systems, and attorneys; and representing providers in professional board and licensing matters. As a qualified neutral under Rule 114 of the Minnesota General Rules of Practice and included on North Dakota's Neutral Roster maintained by the North Dakota Supreme Court Administrator's Office, Angie is available as a mediator in select cases in Minnesota and North Dakota.
Angie graduated summa cum laude and Phi Beta Kappa from the University of North Dakota with a B.A. in Political Science and with distinction from the University of North Dakota School of Law, where she earned Order of the Coif designation for her academic achievement and Order of the Barristers recognition for her advocacy skills. She also served as Symposium Editor for the University of North Dakota Law Review. While in private practice at the firm, Angie also taught as an adjunct instructor at the University of North Dakota School of Law in the areas of legal writing and appellate advocacy.
Before joining the firm, Angie clerked for Chief Justice Gerald W. VandeWalle, of the North Dakota Supreme Court, and for Judge David S. Doty, of the U.S. District Court in Minneapolis, Minnesota.
At the firm, Angie chairs the Litigation Practice Group, comprised of all litigation attorneys and paralegals, and is an elected officer on Vogel Law Firm's management team. She is active in her community by currently volunteering as the Chair of the Board of Directors for Make A Wish® North Dakota, a statewide nonprofit organization that grants wishes of eligible children with life-threatening medical conditions.
---
Vogel Law Firm
Vogel Law Firm is a prestigious law firm serving a wide range of clientele in the Dakotas, Minnesota and beyond. Our lawyers deliver quality representation and proven results.
Vogel Law Firm is one of the oldest continuing law firms in North Dakota with more than 55 attorneys in diverse practices. Very few problems arise that have not been encountered previously. For businesses and individuals alike, we offer an unrivaled breadth of knowledge and services to our clients. We provide proven representation and peace of mind for the most important issues to you or your business.