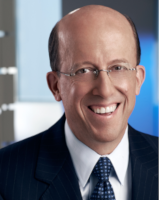 William A. Knowlton
Firm: Ropes & Gray LLP.
Location: Boston - MA
Prudential Tower 800 Boylston Street




Boston, MA 02199-3600




USA
Tel : 617 951 7496

Fax : 617 951 7050

Email : William.Knowlton@ropesgray.com

Major players in the health care and life sciences industries turn to Bill Knowlton for trusted counsel on their most important corporate, regulatory and governance matters. With more than three decades of experience in health care law, Bill offers clients a singular perspective on these complex issues, particularly with regard to acquisitions, joint ventures and restructurings. Clients have told Chambers USA that Bill is "tremendous on healthcare work, and provides leadership qualities that permeate the strength of the practice as a whole."
In his practice, Bill regularly advises academic medical centers and faculty practice plans, hospital systems, pharmaceutical companies, managed care organizations and health care investment firms. He also works closely with private equity clients on their acquisitions of health care companies.
Clients have described Bill in Chambers USA as "a diplomatic, highly skilled negotiator." He has worked with several major academic medical centers on restructuring their relationships with their affiliated medical schools and universities, and has also advised private equity clients on the regulatory framework of health care companies they are seeking to acquire.
One of the earliest members of Ropes & Gray's health care group and its chair for many years, Bill has played a pivotal role in building the firm's practice in this area. Bill has served in a number of other important leadership positions at the firm including as a member of the firm's Policy Committee from 2002 to 2015, where he was liaison to both the firm's health care and life sciences practices. He currently serves as co-chair of the firm's Hiring and Development Committee which oversees associate hiring and development. He also manages a number of important client relationships, including those involving innovative alternative fee arrangements.
Bill belongs to the American Health Lawyers Association and served as a director and clerk of The Kenneth B. Schwartz Center for Compassionate Healthcare, a national, and increasingly international, charitable organization that supports the physician-patient relationship.
---
Ropes & Gray LLP
Joining Ropes & Gray means becoming part of a global network of 1,400 professionals working across three continents and 17 time zones. And that translates into exciting career opportunities for entry-level candidates and experienced lawyers alike.
At Ropes & Gray, we're committed to helping our attorneys enrich their legal skills with a truly global mindset. All lawyers who join the firm are encouraged to take advantage of our GO (Global Opportunity) programs. Attorneys can immerse themselves in a new culture or city in one of our 11 offices worldwide—or on occasion, with one of the firm's clients—and gain invaluable career experience along the way.
We offer a range of global mobility options designed to enhance our attorneys' professional development while ensuring that we have the right skills and experience in place at all times for our clients.