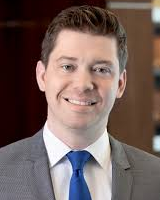 J. Malcolm DeVoy
Firm: HOLLAND & HART LLP
Location: Las Vegas - NV
9555 Hillwood Drive, 2nd Floor




Las Vegas, NV 89134




USA
Tel : 702.669.4636

Fax : N/A

Email : jmdevoy@hollandhart.com

Jay provides counsel to healthcare providers, entities, and other businesses to navigate professional, regulatory, and business challenges and risks.
He has experience providing counsel to medical providers and affiliated entities, such as surgical centers and other facilities, and responding to issues that arise throughout any business. Jay has successfully represented clients before their professional licensing authorities and other state agencies, on topics ranging from pharmaceutical regulations and laboratory operations to medical record protection, responding to governmental investigative demands, and accreditation issues.
Jay particularly focuses on the intersection of technology and his clients' medical activities. This includes advising clients about the latest developments in telemedicine implementation and payment. As a regular part of his practice, Jay helps his clients avoid costly losses arising from HIPAA breaches or Nevada's anti-SLAPP laws due to hasty responses to patient or competitor complaints.
When a dispute arises, Jay vigorously represents his clients in state or federal court. His experience includes both prevailing on and defeating critical motions, including motions for summary judgment and motions seeking temporary restraining orders and preliminary injunctions. Of particular importance, his understanding of privacy laws allows him to advise clients of issues that arise when HIPAA is implicated in litigation (and identify when it is not).
Prior to joining Holland & Hart, Jay practiced as a shareholder at DeVoy Law P.C.
Recognition
Mountain States Super Lawyers® Rising Stars, Business Litigation, 2016-2019
Legal Excellence Award, Vegas Legal Magazine, 2017
Professional and Civic Affiliations
American Bar Foundation, Fellow
State Bar of Nevada Insurance and Health Law Section, CLE Chair
American Health Lawyers Association, Member
Health Care Compliance Association, Member
Member, American Bar Association, Health Law Section and Litigation Section, Member
Clark County Bar Association, Member
Bar Admissions
Court Admissions
U.S. District Court for the District of Nevada
U.S. District Court for the District of Colorado
U.S. District Court for the Western District of Wisconsin
U.S. District Court for the Eastern District of Wisconsin
U.S. Court of Appeals for the Ninth Circuit
U.S. Court of Appeals for the Tenth Circuit
---
HOLLAND & HART LLP
We strive to lead our profession by giving the highest level of service and loyalty to our clients and by forging a team—lawyers, paralegals, staff, and other professionals—whose work is infused with our values.
Joe Holland and Steve Hart were highly trained lawyers who just so happened to also be Rocky Mountain climbers. In 1947 they came together to build a firm. Their philosophy was simple: keep going up, and if you get stuck, there is always another route to the top. This is where the spirit of the firm's pioneering and innovation began.
We serve individuals and businesses in more than a dozen service areas. Holland & Hart has been a presence in Las Vegas since 2006. Together with our predecessor firm, we have more than 40 years of experience advising Las Vegas clients on a wide range of transactional, governmental, and litigation issues in Nevada, including banking and finance, commercial litigation, and real estate and development. Our multidisciplinary teams bring both industry experience and comprehensive legal knowledge to deliver customized legal solutions tailored to your unique business and legal challenges.
This deep local experience – with the added resources of our 14 regional offices across the Mountain West and Washington, D.C. – gives Nevada clients a unique advantage in an increasingly competitive environment.